Although it's considered a natural phenomenon that your testosterone levels decline as you advance in years, a lot of men still get worried when it happens. That's because there are so many health problems that are associated with low levels of testosterone. Low testosterone levels are also known to have detrimental effects on men's sexual function.
If you're not too concerned about developing testosterone-related osteoporosis, or losing your libido, or developing erectile dysfunction, you should still worry about low testosterone levels because research indicates that it can raise your risks of dying.
Low Testosterone in Men
Also referred to as "low T," having low levels of testosterone is very much prevalent in elderly men. Around 20% of men in their 60s have low T, and the percentage increases in older age groups. Nearly half of men in their 80s have low testosterone levels.
The thing about having low T is that your sex life is greatly affected. When you're still young, you don't really worry about losing your ability to achieve erections or having a low libido. And you don't really believe you'll have those problems in your advanced years.
The truth is that an active sex life and healthy sexuality are still important even for older men. And not being able to sexually perform anymore just because of low testosterone levels can have a lot of negative psychological impact.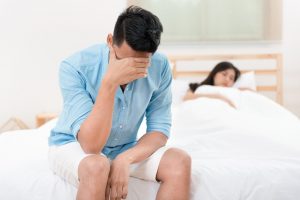 Sexual satisfaction actually contributes to the overall well-being of older adults, and not being able to enjoy that results in a significantly reduced sense of well-being, and it can even lead to depression. This is just one of the numerous reasons why you should take care to maintain high testosterone levels even in your advanced years.
In addition, low T also has several adverse effects on your health, regardless of your age. For instance, it can lead to weight gain due to increased body fat. It can also make you lose muscle mass and reduced energy. Additionally, it can also cause testosterone-related osteoporosis, which can make you more vulnerable to injuries.
Low Testosterone and Risk of Death
There have been numerous scientific studies that investigated the relationship between having low levels of testosterone and heart diseases. Researchers have also looked into the association between low T and the risk of death.
One such study was conducted by researchers from the University of California School of Medicine. The study involved close to 800 men whose testosterone levels were measured from 1984-1987, with follow-up measurements conducted until 2004. During the follow-up period, more than 500 deaths occurred.
The researchers found that men who had total testosterone levels lower than 241 ng/dl were 40% more likely to die as compared to those who had higher total testosterone levels. In addition, the authors noted that having low testosterone levels is predictive of death due to cardiovascular and respiratory diseases.
In another study, the researchers noted that men with low testosterone levels were more likely to die due to respiratory, cardiovascular, and renal diseases, as well as cancer and type 2 diabetes.
Furthermore, the researchers also noted that there's a high prevalence of metabolic syndrome, obesity, inflammatory disorders, type 2 diabetes, and cardiovascular diseases among men with low testosterone levels.
Low Testosterone Levels in Relation to Specific Medical Conditions
Low testosterone levels, when accompanied by certain medical conditions, can greatly increase your risks of mortality. For instance, a recent study published in the Journal of the Endocrine Society revealed that among men with metabolic syndrome, low testosterone levels are closely tied to increased mortality risks.
Among men on hemodialysis due to renal or kidney diseases, researchers found that having low testosterone levels can increase overall mortality risk by as much as three times. On the other hand, for men who have chronic kidney disease but are not on hemodialysis, increases in total testosterone levels can reduce risks of mortality by around 30%.
Several studies have also validated the relationship between low testosterone levels, erectile dysfunction, and cardiovascular diseases. It's been shown that for men who had both erectile dysfunction and low T, their risks of death due to cardiovascular diseases were much higher.
Low testosterone levels are closely tied to cardiovascular mortality. This means that if you have low T, you may have a higher risk of dying due to coronary heart disease, heart failure, stroke, myocardial infarction, arrhythmia, thrombosis, and sudden cardiac death.
On the one hand, there are also many studies that show the positive effects of testosterone treatment on risks of mortality. One study showed that getting testosterone treatment can lead to around 40% reduction in risks of death.
Another study showed that in men with hypogonadism and type 2 diabetes, those who did not get testosterone treatment had a higher mortality risk than those who received testosterone treatment.
All these studies suggest that although having low testosterone levels does not cause death by itself, it can increase your chances of dying if you're also suffering from other medical conditions like heart diseases and renal diseases.
Naturally Increasing Your Total Testosterone Levels
With so many studies showing that you're more likely to die if you have low testosterone levels, it becomes more necessary for you to take steps to normalize your levels of testosterone. You can definitely talk to your doctor about getting testosterone treatment, or you can try various natural means to increase your total testosterone levels.
For instance, you can try fenugreek, which is a healthful supplement that's known for its anti-diabetic properties. Fenugreek is also often used to help increase weight loss. More importantly, fenugreek also exhibits aromatase inhibitory properties.
What this means is that fenugreek can stop your free testosterone from getting converted to estrogen. This is why fenugreek is good for keeping your free testosterone levels high. And since it helps you lose weight, that can also have positive effects on your total testosterone levels.
Aside from fenugreek, there are many other herbs that are scientifically recognized to have positive effects on men's testosterone levels. These include Tongkat Ali, Ashwagandha, and Tribulus terrestris. You can also try increasing your intake of zinc as this trace mineral is necessary for testosterone production.