Sex won't be the same as it did in your twenties and your forties. But it can still be satisfying.
While it is true that mature couples aren't featured as much on steamy scenes on the silver screen, there's no question about it: sex is good for all ages.
See, the ways we express intimacy and display affection change as we mature. That's why there are some important considerations to keep in mind to keep the flame burning with your partner (and enjoy great sex no matter your age).
Despite common misconceptions, sex isn't exclusively something for the young. Because whether you accept it or not, many mature individuals remain sexually active well into their twilight years.
Age really is just a number.
Besides, what's not to love about sex? Healthy sex life isn't just satisfying and tremendously fulfilling. On the contrary, a healthy sex life brings knock-on benefits to other aspects of your life, such as your confidence, well-being, and, of course, physical health.
It's easy to stay in the realm of fantasy, but more and more mature individuals and couples can and should enjoy better sex more frequently.
Here are five ways to rediscover that spark with your long-term partner – for a happy, healthy, and fulfilling relationship.
1. Take it easy.
As individuals age, it may take more time to get sexually stimulated and become aroused enough to get in the right mood, especially for postmenopausal women who experience reduced estrogen concentrations in their bodies. That's why foreplay is crucial before intercourse because mature women find it harder to produce lubricant – or get wet, for lack of a better term. Well, lubricants are your friend.
Toys can be wonderful additions to your arsenal for the bedroom. Granted, you or your partner might take some time getting used to them in your routine – but a good dildo, cock ring, or vibrator can help dial up the intensity in a safe, steamy manner.
You may also want to try lubricating sprays and topical creams for more intense sexual sensations that help you get off the right way – at any age.
2. Confront your sexual demons.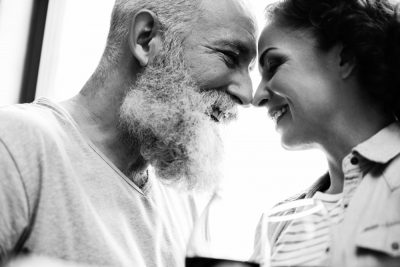 While there are more supplements and prescription medications men can take for premature ejaculation, older men are likelier to experience the latter apart from sexual performance issues like erectile dysfunction.
It's no secret that most men continue trying to last longer between the sheets and that quality male enhancement pills are an effective way to achieve that. Quite frankly, many issues men struggle with from ED arise from age-related performance anxiety concerns. Other factors stem from your body type, metabolism, and blood flow.

That said, if you are concerned about sexual performance, you may opt to see a sexual health counselor or a urologist. They will help determine the best course of treatment and simple techniques to make sex better for both you and your partner every single time.
Adaptation may also be the answer: due to age-related sexual performance concerns like ED or post-menopause, some couples find that outercourse (sexual stimulation without penetration) can be just as much of an intimate, satisfying sexual activity for mature couples as "traditional" intercourse is.
3. Wear comfy clothes between the sheets.
It's no secret that most younger adult women are more comfortable wearing attractive, arousing lingerie. That's why as they age, women find it easier to become aroused wearing comfortable clothes rather than latex, leather, or lace. Check out your friendly neighborhood lingerie store, and explore the section with comfortable bodysuits, sleepwear, and bra and panty sets that both partners might just find helpful. Don't limit yourself to lingerie, too – swimwear and other undergarments can just be as arousing.
4. Transform your definition of intimacy.
The definition of intimacy changes over time as couples mature. Even older couples in new relationships have different sexual needs that need to be addressed to keep the sexual flame burning between couples.
But sex is simply more than just plain vanilla intercourse. Little gestures like kissing, cuddling, and hugging can be just as pleasurable as penetrative sex might be. Affectionate contact, therefore, such as spooning and cuddling, may just be as sexually satisfying as penetrative intercourse is thought to be. In fact, it might just be the best part of the whole sexual experience itself.
Spicing up your run-throughs between the sheets, so to speak, by changing positions every once in a while because both you and your significant other are trying something new for the first time, making both of you more cognizant about your shared sexual needs.
5. Let it all hang out.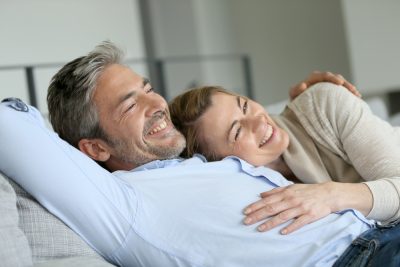 The crucial thing to remember for mature couples is that things are simply not going to work the same as they did 20, 30, 40 years ago. Expecting the same is just madness since your libido and stamina will never be as high as when you were in your prime. There is no point in beating yourself up over something that normally happens during the aging process. Instead, focus on the positives. Not stressing about the small things just might be the key to getting your sex life in order. Just let it all hang loose.
We'll leave you with one final piece of important advice for pleasurable, robust sex life – looking after yourself and staying as healthy as you possibly can is the best thing you can. Eat right, take the right doctor-recommended supplements, don't smoke, reduce your alcohol consumption (or get rid of it altogether) – all of these are things that are essential to your goals.
Lastly, see your doctor regularly, especially if you have chronic health conditions or take prescription medications.